ABOUT COMPANY
   "MILENKOVIC DOO" is a family company founded on August 1, 1996. based in Obrenovac. Our main activity is truck transport of goods in international road traffic. The mission of Milenkovic doo is to provide an integrated logistics service to customers, with innovation, commitment and efficient organization, respecting corporate values and social responsibility. For over two decades, we have been providing services for the transport of goods in international traffic between Serbia and the European Union, as well as countries in the region.
  We have all the necessary licenses, certificates and permits for international road traffic, so we can offer you our services for the delivery of goods to and from Eastern European countries. Our company is also a member of the association of international road carriers PU International Transport, from Belgrade.
Sufficient number of CEMT permits allows us to organize the transport of goods to destinations within the EU. For all vehicles we have CMR insurance, in the amount of 300.000 EUR per vehicle.
FLEET
With one of the most modern fleets, we have become a leader in the region in the field of freight transport and thanks to that we have the ability for the greatest possible degree of flexibility. Our fleet consists of 30 vehicles with a constant tendency to grow and procure the latest generation of vehicles in order to keep up with the competition in the market. Transport requirements are currently being met with 20 sets of vehicles with classic tarpaulins as well as 10 refrigerators. All vehicles are fully insured and have CMR insurance (in the amount of 300.000 USD). Our trucks are equipped with modern satellite tracking that allows precise information on where your goods are at a given moment. The environmental standard of the vehicle is the majority EURO 6.
OUR TEAM
   The qualification and resourcefulness of our dispatchers are the key to our success. They are always there to listen to your requests and to present you with the best possible transport solution, and price formation is done on the basis of current offers, although we can mention that our long-term associates have constant prices formed on an annual basis. You are not obliged to think about things that are outside your domain, leave it to our experts. The driving staff is highly qualified and approaches their work very professionally, respecting the strict EU standards of rest and working hours. We would especially emphasize the speed of the transport process, which we perform with vehicles with a double driver's crew, if there is a need for the same.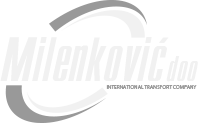 International transport and forwarding
Top service of road transport of goods with its own fleet of vehicles (tarpaulins and refrigerators) to Spain, Portugal and the south of France.
Milenković d.o.o.
Jovana Skerlića 4,  11500 Obrenovac
PIB: 104083711
Mat. broj: 20085371